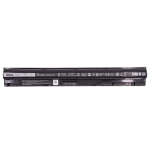 Dell 14 5000 Series Battery
৳ 1,900
Description
PRODUCT DESCRIPTION & SPECIFICATIONS
Battery Type: Replacement Battery Cell Type: Li-ion
Cell Number: 3/4 Cells Battery Voltage: 11.1V/11.4V
Battery Capacity: 42Wh
Battery Color: Black
Attention:
1.Li-Ion Laptop Battery 10.8V and 11.1V are in common use.
2.Li-Ion Laptop Battery 14.4V and 14.8V are in common use.
It has all the same functions as the original battery, made from the highest quality cells, excellent quality and cheap price with the best service. Selected high-performance lithium-ion batteries from manufacturer. All batteries are tested for 100% quality control assurance. Choose this excellent battery for your laptop!
BATTERY PART NUMBER
WDX0R, 3CRH3, T2JX4, FC92N, CYMGM