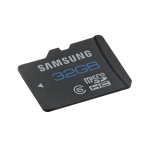 SAMSUNG 32 GB MEMORY CARD
৳ 350
Description
Product details of 32 GB memori
Class 10 compatibility Memory Card
Read / Write Speed: Class 10
Transfer Rate: 24MB/s
Capacity: 29 GB+
As Same As Picture
Class 10 compatibility Memory Card
Read / Write Speed: Class 10
Transfer Rate: 24MB/s
Capacity: 29 GB+
As Same As Picture
Smartphones, tablet PCs, e-book readers, hand-held game consoles and other devices usually have a limited amount of built-in storage. These micro SD cards are a cost-effective way to expand device memory capacity and store many times more movies, music, e-books, and app data.
This microSDHC memory offers an SD Class 10 rating along with an Ultra High-Speed Class 1 rating, for reading speeds up to 80 MB/s and lower write speeds that should at least be able to exceed the Class 10 minimum of 10 MB/s. These speeds make the card ideal for capture and transfer of full HD 1080p video. A built-in write-protect switch found on the SD adapter prevents accidental data loss.
You can insert the card into any microSDHC-compatible device, such as a mobile phone. Plus, the included microSD adapter enables you to insert the card into any full-sized SD slot, making it compatible with SDHC-compatible devices like digital cameras and card readers.