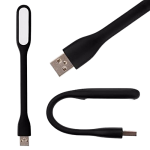 Description
Product details of Multi Color flexible portable charging mini usb led lamp reading night light
Multi Color flexible portable charging mini usb led lamp reading night light
USB LED Light
Features:Portable: Suitable for using on bed, desk and carrying out.
Flexible: Bending to adjust the lamp, adapting to various situations.
High bright: 6 LEDs inside.
Protect eyes: Lambency lampshade creates soft light, avoiding discomfort caused by LED direct light.
USB interface: Can be connected to PC, tablet, phone and power bank.Connecting with power bank, the light can be turned on / off by the switch on the bank.
Specifications:
Interface type: USB
Lamps type: Led
Lamps quantity: 6 (inside) Rated voltage: 5VRated power of light sourcer: 1.2W
Color: White, blue (optional) Body Color Black
Material: PCItem
size: 1.8 * 0.9 * 16.9cm / 0.7 * 0.4 * 6.7in (L * W * H)
Item weight : 17.0g / 0.6oz
Package size: 20.3 * 5.3 * 1.0cm / 8.0 * 2.1 * 0.4in (L * W * H )
Package weight: 18.0g / 0.7oz